For the safety and enjoyment of all who use our facilities, we request compliance with the following:
NO CELL PHONE use permitted within the pool area. Cell phones may be used in the parking lot.
ALL FOOD must be eaten in the picnic area. Please, no eating or snacking on the lawn or pool deck.
ABSOLUTELY NO GLASS of any kind allowed on the premises. This includes iced tea/drink containers, shampoo, and the like.
No alcoholic beverages are permitted at any time on the swimming school premises.
No pets allowed on the swimming school grounds.
All infants and toddlers must wear DIAPERWRAPS against their skin while swimming to prevent accidents and subsequent closure of the affected pool for a 24-hour period, required by the Health Department. Disposable paper diaper wraps are ineffective and therefore not acceptable. Members, please advise guests of this policy before they arrive at the swim club.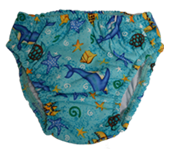 Approved reusable swim diaper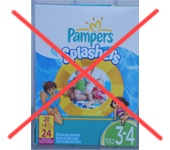 Not approved swim diaper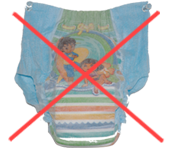 Not approved swim diaper
Swim fins, snorkels, face masks may be used Tuesdays through Fridays. If pools are not crowded then tubes are allowed subject to pool conditions.
Swimming School equipment—kick boards, etc., not loaned out for recreational use.
Rough or boisterous conduct at pool is not permitted.
Non-swimmers must be accompanied in the water by an adult within arm's distance.
The Pool Manager has the right to cancel at any time the pool privileges of any member or members who do not comply with Club rules. The Life Guards are always in authority in absence of Pool Manager.
The Management is not responsible for loss of, or damage to, personal property.
The use of portable radios is permitted; however, as a courtesy to others, it is requested that they be used only with individual earphones.
Members, please instruct au pairs and baby sitters of these policies.
A guest is anyone, adult or child, who is not a member of the immediate household. This applies to swimmers and non-swimmers alike. This includes house guests. The guest fee applies to everyone's relatives, spectators, local guests, out-of-town guests, and house guests, because from an insurance standpoint we are responsible for every person on the premises.
The Guest fee is $15 for each adult and $10 for each child. No charge for children under one year. All guests must be accompanied by a member and UPON ARRIVAL must be registered by the member. A member is responsible for the conduct of his/her guests.
For information write:
ANN CURTIS SCHOOL OF SWIMMING, INC.
25 Golden Hinde Boulevard
San Rafael, California 94903
Or phone: 415-479-9131
Fax: 415-479-3205